Blues, Jazz, Psychedelic, Space Rock, Progressive, Experimental, Heavy Metal, Garage, Shoegaze,...
« Chaque rencontre est une nouvelle occasion de travailler en tandem sous forme de conversations et de donner naissance à un objet unique, réduit à l'essentiel, témoignant de cette façon de voir, d'entendre et de toucher propre à l'univers de chacun. Marc Ducret, Pierre Desprez et John Dieterich ont été les premiers à expérimenter les possibilités sonores des médiators en porcelaine. Ils m'ont encouragée à poursuivre ce projet et à me concentrer sur l'aspect technique. La pratique de leur instrument leur étant propre, ils avaient tous des besoins très différents. Il fallait donc y répondre par un objet sur-mesure. Le médiator est en quelque sorte un portrait issu de cette collaboration. »
« Every encounter is a new opportunity to work in tandem in the form of conversations and to give birth to a single object, reduced to the essential, reflecting one's view, hear and touch. Marc Ducret, Pierre Desprez and John Dieterich were the first to experiment the acoustic possibilities of porcelain picks. They encouraged me to go ahead and to focus on the technical aspect. As they all played their instrument in a different way, they had very different needs. Thus, it was necessary to propose bespoke objects. The pick is a portrait resulting from this collaboration. »
Cynthia Lefebvre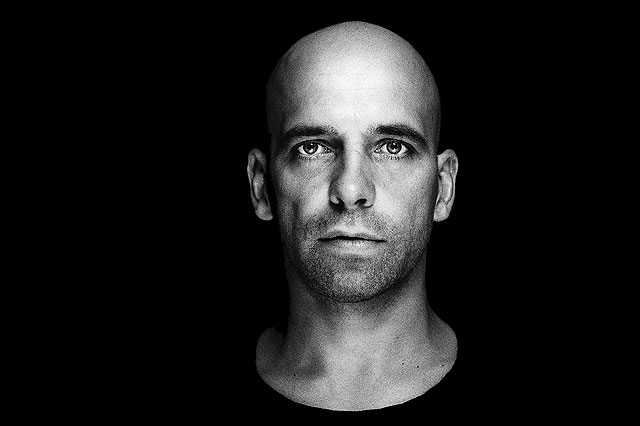 Marc Ducret
Autodidacte éternel, incontestable virtuose, Marc Ducret a quelque chose de monstrueux. Guitariste français au langage caractérisé par des sonorités « sales », agressives et hachées, Marc teste pour la première fois les médiators Kaolin lors d'un concert à Reims en novembre 2012.

« La prise en main est bonne, bon équilibre, la forme de la pointe est parfaite. Personnellement, je préfère le son de ceux qui ne sont pas émaillés, ça « gratte » juste ce qu'il faut - les autres sont aussi intéressants, question de goût. Les plus gros gabarits de médiators peuvent convenir à beaucoup de guitaristes […] le petit a une attaque très précise. »

—de Marc Ducret à Cynthia Lefebvre, septembre 2013

photo: Cecil Mathieu
www.marcducret.com
French self-taught guitarist, undeniable virtuoso, Marc Ducret has got something monstrous. His language is characterized by « dirty » and aggressive tones. Marc tested Kaolin's picks for the first time during a concert in Reims in November 2012.

« The grip is good, good balance, the shape of the tip is perfect. Personally, I prefer the sound of those who are not glazed, it « scratch » just right - the others are also interesting, matter of taste. The largest templates picks can suit many guitarists [...] the small one has a very precise attack. »

—from Marc Ducret to Cynthia Lefebvre, september 2013





+ 1 . 2
John Dieterich
John est membre de Deerhoof , groupe noise pop formé à San Francisco en 1994. Il joue également avec Natural Dreamers, Gorge Trio et Powerdove. Dans la vidéo qu'il nous a envoyée lors de sa tournée estivale 2013 avec Powerdove, il compare porcelaine, plastique et galets.

+
John is a member of Deerhoof, a noise pop band formed in San Francisco in 1994. He also plays with Natural Dreamers, Gorge Trio and Powerdove. In this nice video he sent us while he was touring with Powerdove during summer 2013, he compares porcelain to both plastic and stones.
Fred Maurin
Guitariste, compositeur et arrangeur de Ping Machine, Fred Maurin a le souci permanent de la matière sonore. A la recherche de nouveaux territoires mélodiques et harmoniques, il joue une « musique organique, dense dans son propos », « où l'émotion est primordiale ». « Au fil des créations nous nous résolvons à arrêter d'essayer d'affilier Ping Machine à un genre musical. On parlera d'énergie, de puissance, et puis bien sûr d'émotions. » —Fred Maurin.

« Mon préféré c'est le numéro 7 ! […] Il serait encore mieux sans encoche et avec un bout un tout petit peu moins pointu... à peine... […] Pour la différence de son c'est très notable, ça fait un son plus précis, ce qui est un peu étrange au début mais on s'y habitue très vite... Et c'est mieux. Le toucher change aussi beaucoup. C'est plus direct, moins souple, ce qui demande aussi un peu de temps d'adaptation. [...] En tout cas, c'est très bien. Par contre, je n'aime pas le son de ceux qui sont non-vernis. Enfin, ce n'est pas que je n'aime pas, c'est surtout que ce n'est pas du tout mon son… Dis-moi quand tu viens à Paris qu'on se voit pour que je te montre comment ça sonne. »

—de Fred Maurin à Cynthia Lefebvre, Paris, août 2013


www.ping-machine.com
Guitarist and composer of Ping Machine, Fred Maurin is interested in experimental soundscapes. He plays a thick and organic music based on emotion. « We've stopped trying to affiliate Ping Machine to a musical genre. We prefer to talk about energy, power, and of course emotions » —Fred Maurin.

« My favorite is number 7! [...] It would be even better without notch and with a tip just a little less pointed ... scarcely ... [...] About the difference of the sound, it is very noticeable, it's more precise, so a bit strange first but you get used to it very quickly ... And it's better. Touch also changes a lot. It's more direct, less flexible, which also takes some time to adapt. [...] Anyway, it's great. I just don't like the sound of the one with no glaze. Actually, it's not that I do not like, but mostly that it's not my sound ... Tell me when you come to Paris so I could show you how it sounds. »

—from Fred Maurin to Cynthia Lefebvre, Paris, august 2013









+